Well, that took a lot less time than I thought it would! One down, forty or fifty to go ^_^
As I closed
The Truce at Bakura
on that final line, the first thing I thought was, "Wow! What a great beginning to our monumental reading list!" Fresh from the Battle of Endor, not even a day after the defeat of the Empire and destruction of the second Death Star, the gang are off to save the galaxy again. The intense exhaustion Luke fights throughout the novel, in addition to his total inability to take care of himself, made me smile and think, "And that's what I've been feeling these last two years of grad school!"
Perhaps more interesting to me is the exploration of the relationships between the three main characters - specifically, Luke and Leia. I appreciate that Tyers doesn't take it for granted that Luke went from being desperately in love with Leia to discovering they're twins in a very short period of time. I found myself uncomfortable with the sort of borderline incest that Luke skates throughout the book but also pleased that the subject was addressed. Luke is
very
young and, unlike Leia, doesn't have a romantic interest at all during the movies on whom to settle his affections. It stands to reason that he would struggle a little bit at first to readjust his boundaries. The scene that really drove this home for me was his long conversation with Leia, which is supposedly about Han, when he says, "So this is what I missed. Growing up without siblings, I mean" (194). And it's interesting, too, that his changing feelings for Leia are blending into his thoughts about becoming a Jedi, spending his life alone, and his desire for family. When Leia speculates that Luke is detaching himself from life, he says, thinking of his powerful reaction to Gaerial, "Sometimes the Force obviously controls me, rather than the other way around. It favors life" (194). Though it's clear he's forming an attraction to someone else, the chat with Leia ends with Luke thinking, "He'd loved her, long ago it seemed, before they learned what she refused to acknowledge [namely, that Darth Vader is their father]" (195). While Leia is hung up who her father is, Luke is still obviously a little hung up on his sister.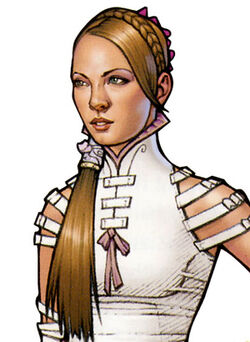 Gaerial "Gaeri" Captison
It also isn't lost on me that Tyers gives Luke a love interest, in the form of Gaerial Captison, who is very like Leia herself - a senator, from a powerful family, disillusioned with Imperial rule but also reluctant at first to oppose it (anyone who's listened to the old radio dramas of
A New Hope
can appreciate Leia's pre-Rebellion struggle). While the romance doesn't last (although I seem to remember Gaerial reappearing in Roger MacBride Allen's
Corellian Trilogy
), it does serve the purpose of really detaching Luke from Leia. Or, rather, helping him make that transition from love interest to sister, a role he's obviously very comfortable with by Zahn's
Thrawn Trilogy
.
I do not remember liking this book as much when I was a kid. I'm really glad to have reread it and to have a new appreciation for the post-
Return of the Jedi
books and where, chronologically, the epic expanded universe begins.
--Es